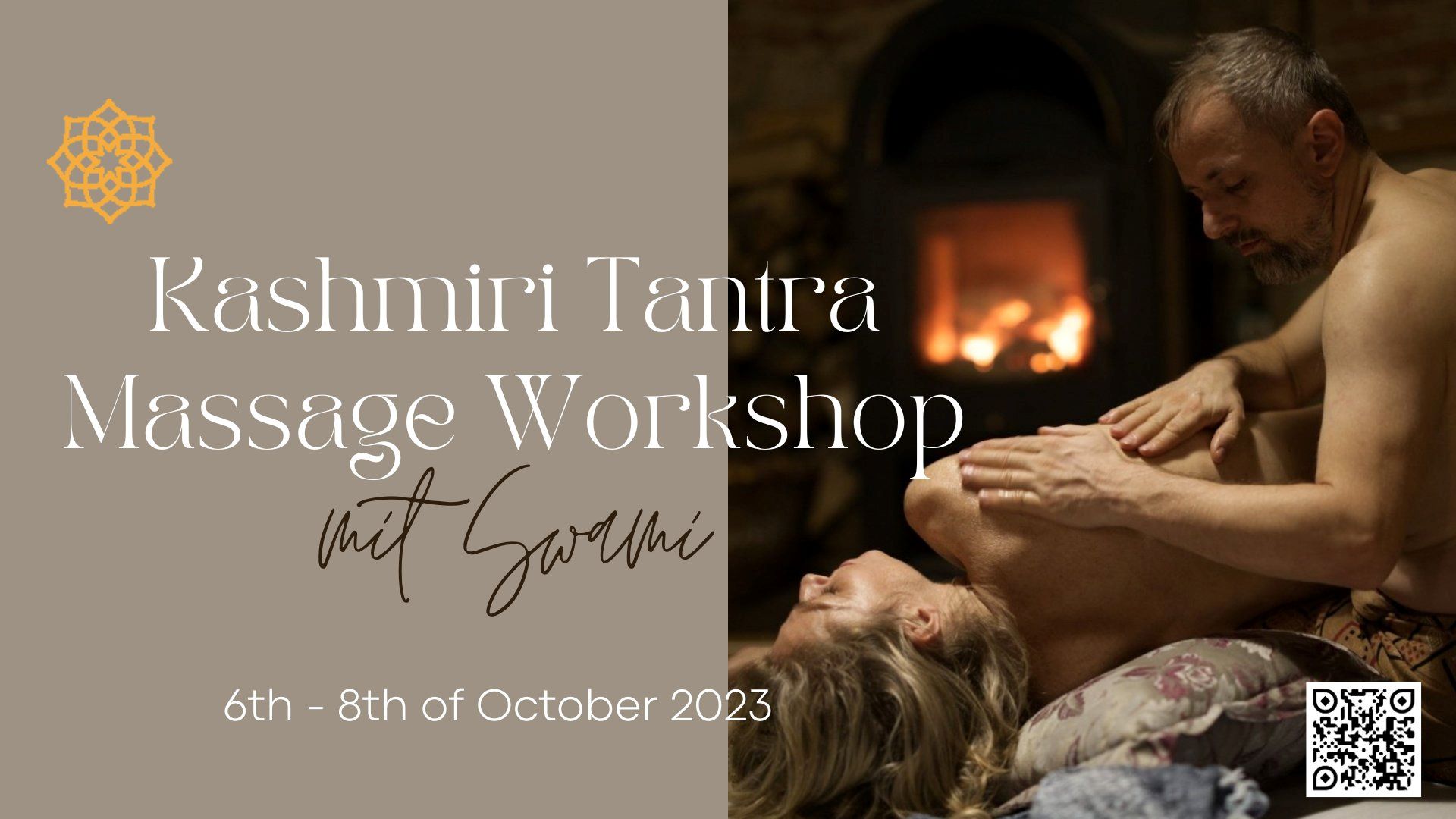 ABSAGE: Kashmiri Tantra Massage Weekend Workshop with Swami Anahata
Leider Abgesage wegen persönlicher Probleme der Leitung.
Kashmiri Tantra Massage Weekend Workshop 6th – 8th of October 2023 – for Couples and Singles 
Detailed information on our website:
https://www.swamianahata.com/kashmiri-tantra-massage…/
 For Singles and Couples who want a deeper connection in their relationship and with themselves.
 ABOUT KASHMIRI TANTRA MASSAGE: 
Kashmiri Tantra Massage is a soft, sensual massage ritual from North India – a tradition of Kashmiri Shaivism. It unites the masculine, the feminine, your Inner Child, and the Buddha within.
The receiver gets in deep contact with these four energies.
Massage is done in a safe and grounded way, so whatever healing needs to happen, happens without the giver having a goal to heal the receiver.The whole body gets touched sensually, without focusing on specific body parts. 
 An additional value is the healing that happens during the massage.
 Kashmiri tantra masters used this technique to heal the body, mind and soul.
 "There are so many misconceptions around tantric massage that bringing a spiritual dimension to touch, pleasure and sensuality is often misunderstood. Tantric massage is a time of love, silence, meditation, depth and connection. It is an atmosphere, a climate in which someone relaxes so deeply that they open up to another person who touches them not only physically, but on all possible levels … This is Tantric Massage…" (- Swami Anahata) 
 THE WAYS in which Kashmiri Tantra Massage WILL TRANSFORM YOUR LIFE: 
• Touch to heal and harmonize your body, mind, heart and soul
The benefit of conscious delicate and loving affectionate touch is a scientifically proven fact. We are wired to receive and give touch frequently, but often have little time and energy left to fulfill this deep need.
• Fill up your energy cup
Imagine there is a cup inside of you that needs to be filled with nourishing touch. If it's empty, most of us start to feel a kind of emotional unhappiness. After a few weeks, it may turn into resentment, sadness, or even depression.
• Enhance your capacity of pleasure
This meditative practice will increase your ability to give and receive pleasure. You will learn to communicate needs and boundaries, free up the flow of body subtle energy and awaken your senses.
• Deep loving connection to your Sexuality
This course will bring you a deep yes to your own body and your instinctual sexual nature which is raw and pure. During this course you will learn how to play with this fire.
You will be learning how to play with sensuality between your masculine, feminine, inner child and consciousness.
After completing the workshop, you will receive a training completion certificate.
WHAT WE WILL LEARN TOGETHER:
• Kashmiri Tantra Massage (giving&receiving) everyday.
• Tools to draw clear and playful boundaries while giving and receiving touch.
• Tantric meditations to open up your Kundalini and Chakra system.
• Body-based exercises to bring flexibility so you can sit on the floor and give a tantric massage.
• Releasing tension and stress from your hands so your hands become pure light.
• Latihan meditation to learn to surrender to the flow of energy.
• Tandava massage techniques to bring full-body flow in massage.
• Body blissritual to honor and love your own body.
• Learning to shift your energy between masculine and feminine.
• Strengthening your container to give and receive pleasure.
• Awakening of your senses through tantric meditations.
• Full body energy flow through emotional release and breathwork
 ! IMPORTANT NOTE ! 
• Kashmiri massage is given on the naked body while the giver keeps their underwear on. There is no contact with the genitals.
• This massage is given on the covered floor.
• You don't have to be an experienced tantric practitioner, but you need to have previous experience in Tantra workshops or self-development.
• This workshop is open for singles and couples. We respect intimacy in couples and will never ask you to do meditation with anyone else, unless you both agree otherwise.
• You are always in charge of the level of intimacy you share with others.
 Frequently asked questions by the workshop participants: 
Isn't Tantra all about sex?
Tantra is an ancient spiritual path, that is known for its transformative power on all levels. As Tantra includes every aspect for our human experience from death, emotions, subtle energy etc. it as well includes and helps us to become wise in the fields of our sexuality and sexual energy. Therefore Tantra is one of the fastest ways for personal development and spiritual growth.
In the Kashmiri Tantra Massage Course, we work with sexual energy but we neither promote any sexual interaction of any kind nor include internal touch of the genitals. We will create a safe container for you at all times.
What is the Level of physical intimacy in the group?
You will receive and give Kashmiri Tantra massage, but at all stages, you can decide how intimately you want to give the massage or receive the touch. Your boundaries will be respected at all Times.
How much Nudity will there be?
There will be opportunities for you to be nude, i.e. during the massages, in the sauna or in the sacred setting of rituals etc. Nobody is forced to be nude you can always decide to keep on clothes or your underwear according to what you feel comfortable with.
I'm in a relationship, but my partner does not go to the workshop. What could we do?
Firstly, ask your partner to come to this workshop and take this as pouring energy to your relationship. This workshop can reignite fire of love in your couple. If by any practical reasons your partner cannot make it then communicate consciously to your lover your desire to attend this workshop.
In this workshop we provide sacred and safe space for each individual to choose how much he or she would like to be intimate with others. So this communication with your partner will bring a beautiful experience of intimacy whether you come for this workshop or not.
I am currently not in a relationship. Does it make sense to go to the workshop?
Whether you are in a relationship or not this seminar is definitely going to help you. Basically, it will benefit you to nourish your own relationship within yourself and will bring a deeper understanding of yourself. You will have a chance to explore and experience yourself in a playful interaction with others. There is always a support available throughout the workshop.
I want to go with my partner, but we are afraid of exchanging partners in the exercises. What can we expect? What level of intimacy will we go to?
You are most welcome to come as a couple to this workshop. You are always in charge if you want to do all couple-exercises with your partner or not.
 SACRED ART OF TANTRA 
TANTRA IS AN ANCIENT ART OF COMBINING SEX, LOVE AND THE SPIRIT!
Tantra is an ancient practice to unite sexuality and spirit. It offers an approach to life that celebrates the joy and sensual awareness of the body. It is especially important for people who want a deep relationship with their partner. Through delicacy, awareness and conscious body sensation, tantra helps you to fully open up to your loved one. It affects our whole life.
Tantra is also a sophisticated path of spiritual awakening. It offers people a path to enlightenment through everything we are – through sensations, emotions, and sexuality. It covers the entire human being. The secret of tantra is that it brings awareness and love for every human situation, no matter what it is.
Tantra is also a way of experiencing deep love and sexuality, creating close relationships, uniting bodies and souls.These are not just sexual techniques and advice – as is commonly believed, but something much deeper. It is a process that takes place at all levels – body, mind and soul. And which unites all these levels.In its deepest essence, tantra is the meeting of two energies – male and female, completely different, but necessary for this difference to create something new and beautiful. Practicing tantra transforms all spheres of our life – relationships, sex, but also work, friendships, parenthood. If you deepen your awareness, presence and breathing, it will affect your whole life, not only improve the quality of your sex life.
 WHAT DO WE GET FROM TANTRA? 
• It enriches our sex life, makes it more beautiful and complete.
• It allows us to discover true closeness – with ourselves, with our partner, with our family.
• Enables a deep flow of love.
• It allows us to discover who we really are.
• Teaches how to develop spirituality through closeness to another person.
• It can help heal our wounded aspects.
• It has a positive effect on all areas of our life.
 SWAMI ANAHATA'S TANTRA SCHOOL COMBINES 
• the wisdom of ancient Eastern mysticism and Western scientific research
• classical tantra
• tantric, Kashmiri and Taoist massage
• Vigyan Bhairav Tantra
• methods of healing and bodywork (LomiLomi, Tibetan acupressure, acupuncture with colours of the light)
• intensive training for men – "Awakened Masculinity"
• transsomatic hypnotic trance
• Osho meditations (he is a certified teacher of meditations such as Mystic Rose, No Mind & Born Again and many others)
• spiritual practices such as Vipassana, Zen, Sufi, Tao and Yoga.
Facilitator: SWAMI ANAHATA
Swami Anahata is an international Tantra Teacher and the Founder of The Awakened Masculinity Training for Men. His name Anahata is symbolic of the heart in the spiritual path of Tantra. He fuses ancient Eastern mysticism wisdom with Western scientific research to design his courses, making his teachings easy to understand, holistic and practical to modern lifestyle.
Swami Anahata is regarded as a pioneer in the field of leading Tantra practices for Men, helming thought-leadership on the subjects of Masculinity and Meditation. He has taught Tantra workshops to couples, individuals and men only groups worldwide in countries such as India, Bali, Czech Republic for more than 20 years. Born in India, where Tantra has originated from, he speaks and writes Sanskrit from the young age of 7.
Swami Anahata is trained in various healing and bodywork methods including LomiLomi, Tibetan Acupressure, Kashmiri and Taoist Tantric Massage, ColorlightAcu-puncture and Transomatic Trans Hypnosis. He is a certified meditation facilitator in Osho Meditative Therapies such as Mystic Rose, No Mind & Born Again and Yoga teacher. He is an avid practitioner of Satori. He has studied various spiritual disciplines such as Vipassana, Zen, Sufi, and Tao medita- tion and philosophy.
Swami Anahata has worked in Fortune 500 companies such as AOL Time Warner, CNN, Barclays Bank, British Council for more than 12 years. He then left his successful corporate career, suffering from a burnt out from work, depression and body image is- sues. He went on a spiritual quest for the meaning of life and love.
On his spiritual journey, Swami Anahata discovered teachings of Osho and lived in international Osho communities to learn and synthesise multi-cultural differences and psyche of human behaviour, which enriched his experience in relating with people from all walks of life. This then led him on the path of Tantra.
swamianahata.com
 WORKSHOP HELD IN ENGLISH AND TRANSLATED INTO GERMAN IF NEEDED! 
DATES: 6th – 8th October 2023 (Friday evening – Sunday evening)
WE BEGIN: 6th of October  at 6 PM at the venue (please arrive up to 30 min before to prepare yourself and arrive at the venue)
WE END: 8th of October at 5 PM with a closing round and tea.
WORKSHOP PRICE:
Singles
Early Bird: Till 15th of July 380,00 CHF
Regular: 460,00 CHF
Couples
Early Bird: Till 15th of July 720,00 CHF
Regular: 890,00 CHF
FOOD & ACCOMMODATION is not included
Above price does not include your food and accommodation.
Food: Vegan lunch (Saturday and Sunday) will be provided including snacks and tea. Please mention if you would like to add a vegan lunch for both days to your booking. Costs will be charged extra.
Accommodation: Can be provided on request. Kindly ask you to contact us when your booking has been placed.
How to register?
Please follow this link:
https://www.swamianahata.com/kashmiri-tantra-massage…/